As some of you may have noticed, September 8th was the 50th anniversary of the debut episode of Star Trek: The Original Series. This milestone was marked with TV marathons, shout-outs across the Internet and at a nationwide convention tour, which I attended right here in Chicago when it touched down last weekend.
I immersed myself in three days of all things Star Trek, and discovered a common sentiment being expressed from both stars and fans alike: "Wow, I can't believe it's still going fifty years later!" For a franchise to be inspiring this magnitude of love and loyalty five decades on is surprising and intriguing. I started to consider what an impressive feat it is for something to be so iconic for so many years.
As a fan myself, I do have a biased belief that the show offers abundant wisdom on all things, from interplanetary peace-keeping policy to the perfect cup of tea (Earl Grey, hot). So, the question is: what can the Star Trek phenomenon teach us about brand longevity?
Stick to The Prime Directive
The mission of Star Trek has always been to share peaceful, progressive ideals through entertaining content. No matter what form the stories take, Star Trek has relied on this founding principle to guide its content. Always keep the prime directive at heart—the story of your brand should always be at the core of any marketing.
Maintain Your Humanity
Despite the franchise being comprised of extraterrestrials and fictional planets light years away, the substance of Star Trek has always been the beloved characters navigating a very human experience. People connect to relatable, emotional, human stories. As a content creator, remembering to be authentic is incredibly important. Don't lose your humanity as you quest for your brand's perfection.
Engage
If there's one thing Star Trek has definitely gotten right, it's the engagement with fans. The creator of the show, Gene Roddenberry, himself said the real magic of Star Trek was the audience, and he fully embraced their input and participation in his creation. During Star Trek: The Next Generation, writers of the show would frequently host writing workshops at fan conventions, and encouraged fans to send in scripts—many of which were used. What does that mean for brands? Listen to your audience! Find ways to engage with your consumers and involve them in the process to make them feel like they're a part of something.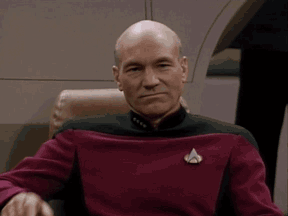 Boldly Go
One of the biggest keys to Star Trek's longevity is its ability to adapt and stay current. While the crew explored new territories of space, the show creators explored new avenues for content from television and film to cartoons, comics and live events. There are so many ways to get your message out into the world—explore and hone in on the ones that are most effective for your brand and your goals.
Stay the Course
By keeping the iconic aspects of the show close to the original (the crew, the logos, the ship) and trying new things with other elements (casting, style, subject matter), the new era of Star Trek is retaining its old followers and engaging with new ones. How do you retain your loyal audience while appealing to a new group of people? Keep what works and change what doesn't.